For decades, Plantronics headsets have been wrapped around the ears of our nation's leading innovators. When Armstrong landed on the moon, those smoky control rooms at NASA were filled with the Plantronics brand. Since then, they've been proven to increase productivity by as much as 20%.
Midwest Telecom is proud to offer Plantronics headsets for your business.
Communications between supervisors and trainees can be a hassle. But with special trainer headsets, your supervisors can train agents by listening in on calls.
SAVI 700 SERIES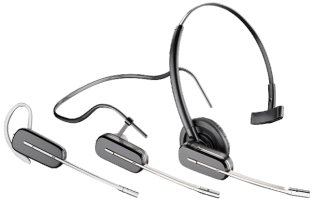 Multiple devices. Singular control.
The Savi 700 series is changing the way productivity-focused office professionals communicate. With multi-device connectivity, a newly designed convertible headset, and up to 120 meters of wireless range, now you can easily manage desk phone, PC and mobile phone calls with the most intelligent wireless headset system on the market.
 
Three-way Connectivity
Three-way connectivity lets you easily switch and mix audio between desk phone, PC and mobile phones with one intelligent, wireless headset system. Ideal for office professionals who use multiple devices and require best-in-class sound quality for their business communications.
Power in the Base
With one-touch call answer/end, vol+/-, mute and flash, manage calls from any connected device up to 350 feet from the charging base. Automatically routes mobile calls to the mobile phone or headset – whichever device is within easy reach. Transfer audio between headset and mobile phone with a press of a button so you can leave the office and take the mobile call with you.
Wearing Styles For You
 Choose the style that's right for you with more wearing style choices than any other wireless headset system on the market. Convertible (over-the-ear, behind-the-head, over-the-head), over-the-ear  and over-the-head (monaural and binaural) designs available.
Features
Multi-device connectivity
Lightest wireless DECT™ headset
Hot swappable battery
Noise-cancelling microphone
Productivity-focused
Premium audio
Intelligent mobile routing
Plantronics Software
Superior Call Management
• 3-way connectivity to easily switch and mix PC, mobile, and desk phone audio
• Automatically routes mobile audio to whichever device you pick up
• Easily transfer audio between headset and mobile phone to take calls on-the-road
• UC presence automatically updated when on a PC, mobile, or desk phone call
• Energy efficient adaptive power syste moptimizes for range and talk time
• Conference in up to three additional headsets and guests can continue through multiple calls
Advanced Dect Wireless Security
• Keep calls and information safe and secure with the latest DECT security certification
• Most secure DECT headset on the market certified by DECT Forum
Premium Sound Quality
• Advanced wide band audio high definition voice quality
• Enhanced digital signal processing (DSP) provides more natural voice sounds
For more information call Midwest Telecom today at 812.421.0111.