Smart Communications for SMBs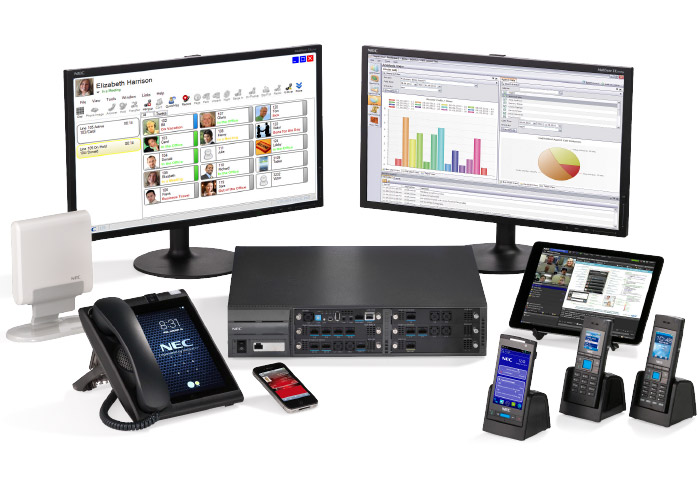 The UNIVERGE® SV9100 platform is a new system, with new handsets and new applications to empower your workforce. Built on the back of the award winning SV8100 technology, the SV9100 provides double the system capacity, yet remains cost effective from 10 to over 800 users.   
The UNIVERGE SV9100 Offers
Distinct, scalable, IP Unified Communications enabled solution
High reliability
Simplified user licensing
Comprehensive suite of Unified Communications and Contact Center solutions
Broad range of mobility applications and devices
Vertical market-specific solution integrations
Wide-range of end-points
Single point configuration and management
Multi-Line SIP client, multi-carrier support
Desktop & Dect Phones
Wide range - Choose from IP or digital, 2-line keys to 32+ or self-labelling, grayscales, color or touch-screen display, custom keypads, plus more
Hotdesking - Allows hands and desk space to be shared by a number of empleyees, help keep cost down
User-friendly interface - Little or no staff training required
Customizable - Function keys can be adapted to the exact individualrequirements of your business
Wireless headset adapter - Allows easy connection to wireless hedsets
Directories - Personal, system and corporate diectories available

Advanced Features
Versatile architecture - works as an IP system, digital system or a combination of the two
Modular architecture for exceptional scalability – cost effective from 10 to 800+
One of the most easily configured Unified Communications systems on the market
User-friendly management interface streamlines system administration
Easy migration from UNIVERGE SV8100 and SV8300

Make a Smart Investment
The SV9100 comes with an unprecedented warranty and future-proof technology that meets the demands of your multi-generational employees. Recognized as having the highest level of customer satisfaction among Unified Communications vendors, NEC also brings you an incredibly smart investment. Our Unified Communications platforms have been recognized by industry experts as having some of the lowest total costs of ownerships on the market.
Work with Smart IT
Interruption of communications services means downtime for your business, customers and loss of revenue. That's why NEC's SV9100 platform is one of the easiest to configure Unified Communications systems on the market. The SV9100 easily integrates with existing IT technology as a fully interoperable IP or digital system. The user-friendly management interface streamlines system administration, giving IT Voice, Unified Communications and Voicemail from one central location.
Simple configuration and low maintenance
Works as an IP system, digital system or a combination of the two
SIP technology provides cost savings and disaster recovery
Easy integration with email apps inc. Microsoft® Outlook® & CRM integration e.g. Salesforce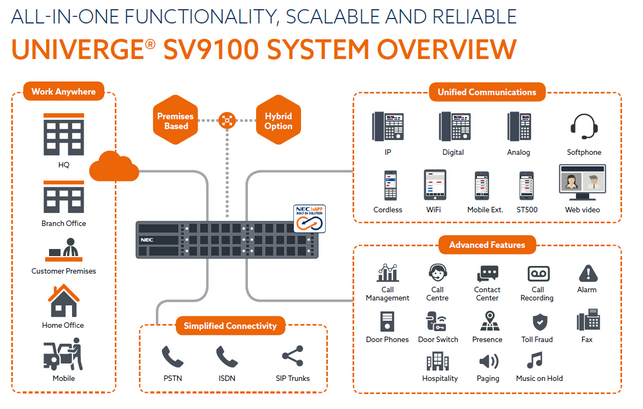 For more information call Midwest Telecom today at 812.421.0111.