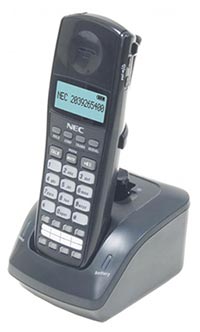 The Cordless DECT Telephone is the next generation mobility solution for the busy office. This new cordless telephone for DSX uses advanced DECT wireless technology for improved clarity and range. The Cordless DECT Telephone offers the same extensive DSX feature integration as its sibling DSX Cordless Lite II, such as Call Forwarding, Call Coverage, Hotline, and Voice Mail. Additionally, the new Cordless DECT has 4 more fully programmable function keys with LEDs (8 total!) for even greater mobile operability in a compact handset.
The enhanced LCD display has a full 24-character 2 line display with a 3rd line for unique call status icons. All the display guidance provided to DSX keyset users is now available on their Cordless DECT. This new mobility solution comes complete with a base unit that connects directly to a digital station port.
Additional features include:
Robust 16-hour talk-time with 7-day standby using the provided Nickel Metal Hydride battery (2.4V-910 mAh).
AC Adaptor.
Handset charging cradle with a slot to charge a spare battery.
How Do I Choose a Cordless Phone?
In today's world your cell phone is your best friend and may have even begun to replace some of your other gadgets and devices. However, having a cordless phone can be a real life saver…literally! Did you know that your land line is attached to your address; this allows for emergency services to quickly and accurately locate you. 
Cordless phones now come with even greater capabilities. Like being able to connect with your cell phone. What that means for you is you can answer your cell phone calls on your cordless phone. They are more comfortable to talk on and often have superior sound/voice quality.
If you have already decided that you want a cordless phone, here's a breakdown of some of the important things you should look for when considering your purchase. 
For more information call Midwest Telecom today at 812.421.0111.