NEC Awards Top Performers at Annual Partner Conference
Company's ONE NEC Message Drives 2015 Advantage Conference Recognizing Sales Achievement and Outlines Company Strategy and Latest Solutions
Irving, Texas -- June 18, 2015 -- NEC Corporation of America (NEC), a leading technology integrator of advanced IT, communications and networking solutions, today announced key award recipients recognized at its Advantage partner Conference held May 19-21 at the Sheraton Wild Horse Pass Resort in Chandler, Arizona.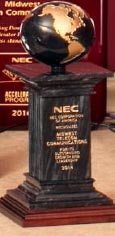 The conference attracts top NEC channel partners and industry consultants from North and South America who learn of the latest product and service developments with hands-on demonstrations and exhibits. The Advantage event has been the company's top partner event for more than 20 years and is highly anticipated by NEC dealers and consultants. This year's event showcased a number of new solutions and enhancements to the NEC portfolio including the recently introduced SV Series; smart technology healthcare and hospitality solutions; and expanded cloud-based services. Attendees embraced the conference theme of "Smart Solutions Delivered by One NEC," just as they do in daily practice. One NEC refers to the breadth of the company portfolio, the broadest in the industry with elements of biometrics, IT solutions, sensor technology and visual graphic displays all being integrated into the unified communication platform.
"We have an outstanding group of business partners who understand the total value that NEC delivers and are fundamental to our continued success," said Larry Levenberg, vice president, NEC Corporation of America. "More significantly, our dealers understand their customers and continuously seek solutions designed to enhance client experiences and business efficiencies. To formalize this process, NEC introduced a contest earlier this year named the UT880 App Challenge which solicits application ideas for the recently announced UT880 smart desktop phone."
Awards presented during the Advantage event included two categories -- the first is the UT880 App Challenge. Only five winning apps were chosen from the many suggestions submitted. Winners are:
Roger Godbout, Unified Communications Integrators - for a UC suite client application
Steven Handelman, ATEL Communications - for dialing contacts from external devices via Bluetooth
Tim Schade, Miller Information Systems - for a business process video solution
Ben Barnes; Optus - for video speed dial
David Jones, Superior Telephone, Bill Daugherty, Gibson Teldata and Eric Lutz, MDCOM - for video surveillance/security
Additionally, each year NEC selects 10 Channel Partners from several nominations for the NEC Sales and Marketing Leadership Award (SML Awards). The criteria for these awards are based on business performance, and local dealer involvement / community relations. This year's recipients are: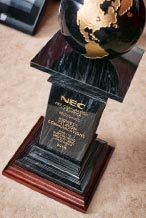 Black Box Network Services
ClarkTel
Delfau
Forerunner Technologies
Matrix Communications
MDL Telecom
Mercury Communications of Austin
Midwest Telecom Communications
Miller Information Systems
Nobel Systems
The SML awards serve as recognition for NEC's commitment to Corporate Social Responsibility in our communities as well as achieving success while maintaining a high level of customer satisfaction.
About NEC Corporation of America
NEC Corporation of America (NEC) is a leading technology integrator providing solutions that improve the way people work and communicate. NEC delivers integrated Solutions for Society that are aligned with our customers' priorities to create new value for people, businesses and society, with a special focus on safety, security and efficiency. We deliver one of the industry's strongest and most innovative portfolios of communications, analytics, security, biometrics and technology solutions that unleash customers' productivity potential. Through these solutions, NEC combines its best-in-class solutions and technology, and leverages a robust partner ecosystem to solve today's most complex business problems. NEC Corporation of America is a wholly-owned subsidiary of NEC Corporation, a global technology leader with a presence in 140 countries and $29.5 billion in revenues. For more information, please visit www.necam.com.
© 2015 NEC Corporation of America. NEC is a registered trademark of NEC Corporation. All Rights Reserved. Other product or service marks mentioned are the trademarks of their respective owners.https://www.necam.com/press/read.cfm?ID=dd5ee71b-d55b-4404-a083-a93df496...