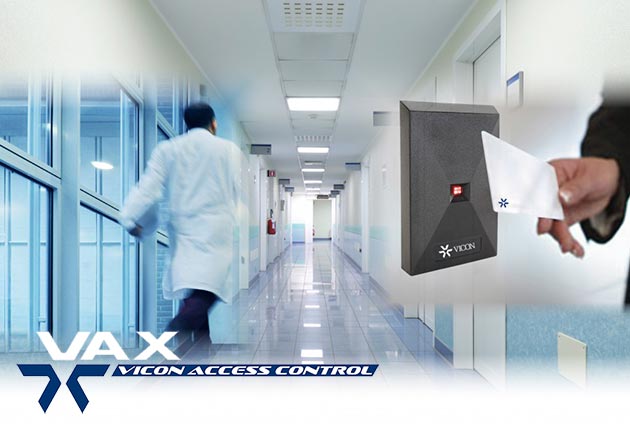 A Secure Access Control System in Evansville, IN that Meets your Needs
Vicon Access Control (VAX) is a unique access control system which maximizes administrative efficiency and streamlines operations. VAX is designed for simplicity in installation, maintenance, scalability, and usability.
Our distinctive controllers are designed for a variety of locations. They can be installed in typical locations, such as electrical boxes or in a unique over-the-door mount. The elevator controllers and input/output (I/O) controllers are typically installed in a metal housing.
The intuitive web-based software and user interface integrate seamlessly with ViconNet video management system (VMS) for ease-of-use and flexibility.
Valerus and Vax are each powerful in their own right but together bring a security system to the next level. Now, Valerus video clips can automatically link with corresponding Vax Access Control events and viewed immediately. This integration is free to Valerus and VAX users.
Promoting a Sense of Security and Accountability
Any responsible business, firm, or organization, prides itself upon being up to date on all practices which pertain to the safety and security of its staff, clients, and property. This means the use of fire alarms and suppression systems, for example. With information technology, it means the use of robust cyber-security systems to protect against data breaches.
Physical security can be optimized with the use of an access control system in Evansville, IN. These systems are effective at regulating physical entry to specific areas such as dorms, offices, or IT centers. It's a way to ensure a smooth and efficient flow of traffic through a building or property.
Adaptable Access for your Needs
The systems we provide at Midwest Telecom Communications are adaptable for the needs of any particular situation or physical layout. We realize that not every system is going to meet every single need, and that's why our unique door controllers can meet many demands. They offer multiple layers of flexibility with the ability for placement in multiple non-standard locations to your specifications.
Dependable Floor-by-Floor Control
Elevators are the lifeblood of multi-story buildings with a convenience that's hard to overstate. However, they can also be seen as a vulnerability from a security standpoint if there are certain areas of a building which call for restricted entrance protocols. That's where elevator access control is a useful tool. When you need to limit or regulate who can enter certain floors within a certain time frame, this form of control pays dividends for its ease of use and adaptable nature.
All our access control systems are flexible to meet your needs and blend with monitoring systems. Our team stands by our products and systems with full support services. We are standing by to help you go with the flow.
Contact us for all the support and advice you need for control systems. We proudly serve Evansville, IN, and the surrounding area.
For more information call Midwest Telecom today at 812.421.0111.